Testimonials: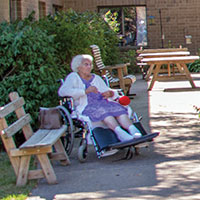 "I like that I am able to go outside and feed the birds. I like the freedom I have here. It's a good home."
— Eliza
Resident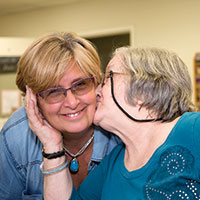 "I like it here because I have lots of friends and I love helping other residents. The food is good and all of the different activities keep me busy."
— Jean
Resident
"I enjoy all of the activities offered, especially bingo, ceramics and beadings. I like to meet new people and get to know them."
— Evelyn
Resident
We pride ourselves on providing our community members the highest quality-of-life by partnering with residents and families to foster meaningful relationships. Our hand-picked staff is committed to developing the physical, emotional, and spiritual potential of our residents.
COME VISIT, AND SEE HOW WE MAKE CARE PERSONAL
We offer compassionate and dignified care to promote each of our residents' physical and emotional well-being. Our rehabilitation team provides customized rehabilitation plans and measurable, concrete results, while our long-term care team builds and nurtures our vibrant community.
ALL WHILE PROVIDING PROVEN, HIGH-LEVEL CARE